Tango Extremo presents: Club Vaudeville
In their new program 'Club Vaudeville', Tango Extremo will bring you back to the nightclubs of Paris and Berlin in the 1920's and 30's. There where jazz, folk and classical music blended together with variété and amusement. Enter 'Club Vaudeville' and get to know the place where nightowls and the flamboyant of this world meet.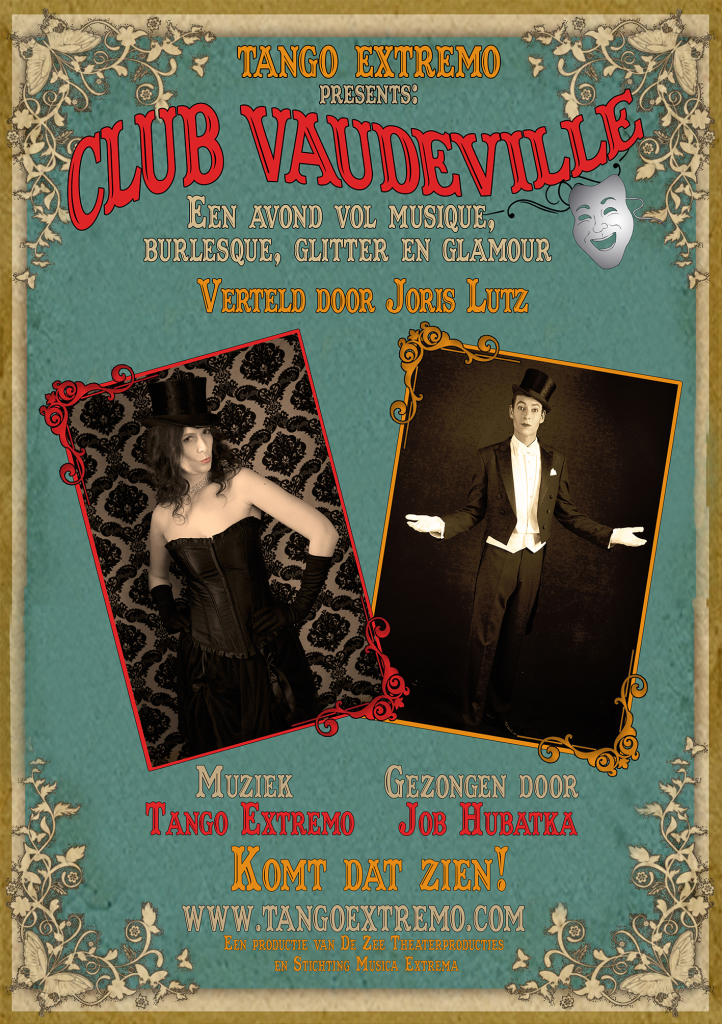 Right after entering 'Club Vaudeville', Mackie Magnolia opens the night with "I'm just a gigolo". It sets the mood for a night filled with too much alcohol, not enough love and everything our parents told us to stay away from. A world full of decadence, melancholic glamour and music. Music that doesn't want to make things more attractive than they are, but just wants to make it intense and vivid. When Mackie Magnolia sings 'Ich hab noch einen Koffer in Berlin' or 'An den kleine Radioapparat' you will feel like you are sitting in the Tingel Tangel theatre in Berlin. Just like 'Si tu vois ma mer' and 'Un gamin de Paris' will make the Folies Bergère and Moulin Rouge come alive before your eyes.
With 'Club Vaudeville', Tango Extremo presents to you their 8th theatre show. A musical ode to the strength of people to hold on and continue their lives, even if they're 'just a gigolo'.
Special Guest: Joris Lutz
Violin: Tanya Schaap
Saxophone: Ben van den Dungen
Accordion: Hans van der Maas
Piano: Rob van Kreeveld
Bass: Thomas Pol
Vocals: Job Hubatka